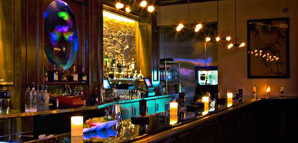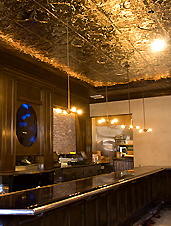 Hey. Happy Cinco de Mayo.
We'd say it's a great day to celebrate news of an awe-inspiring Spanish-style dance party filled with brick, wrought iron, sopas and
Tequila Teas
.
Also: tipsy socialites and ribald beauties you recognize either from Facebook or TV (or both). This is Spanish-style, Hollywood-style. Introducing the reborn
Las Palmas
.
Consider us your tour guide: to the left is the bar, presided over by a tank of live jellyfish under a pressed-tin ceiling. In the main room, through the soaring brick arches, a giant brass elephant head watches over the debauchery happening on the dance floor, thanks to the low light from vintage chandeliers. (Just remember: an elephant never forgets.)
If you need a moment to brush up on your Spanish history (you last danced here when it was LAX, and before that it was a legendary nightspot called... Las Palmas), step out to your lace-covered booth in the enclosed side patio for some Mexican grub and another round. The music's a little softer here, and the conversation's more intimate. And when it's all over, order some
Short-Rib Tacos
from the taco-shop window out front. (That'll be open for lunch too, if you're in the neighborhood.)
And as for those Tequila Teas—this is the latest endeavor from the h.wood group, the guys who've been spiking your tea at
Tea Room
for some time now.
Teatime has never been bigger... except maybe in England.