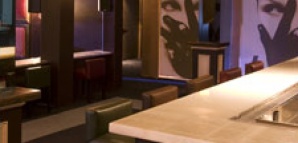 Sometimes a secret isn't kept long enough to be legitimately called a secret.

And sometimes that's our fault. Take a look at 86, the new basement speakeasy hidden off a Hollywood side street under the historic Hillview building.

Now available for all your private-party needs, 86 officially opens after the new year as a hybrid lounge/supper club/live-entertainment venue—think Hyde meets the Avalon meets the first draft of the script for Moulin Rouge.

After descending the concrete stairs through the unmarked gate off Hudson, you'll enter a labyrinthine spot that was once supposedly home to Rudolph Valentino's underground speakeasy—but you won't hear his ghost over the burlesque dancers (or rock stars, or a jazz band) on stage. You'll find two large main areas with plenty of booths, two private rooms (one cloaked in gold-painted brick) and a "smoking patio" (read: half-underground hallway with windows) that's hidden behind a one-way mirror facing the stage.

Many details are still being worked out—you might get a text message with that night's password for admittance, there might be mojito buckets instead of the usual bottle service—but for now, whether you're planning an intimate dinner party or a blockbuster premiere after-party, anything goes. The owners even have the all-clear to close down Hudson for parties that spill into the street.

Which will likely let the cat out of the bag sooner rather than later.