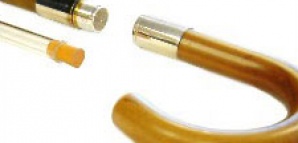 The umbrella is a simple machine.

On a day like today, you want it to open, close and not take up too much space under the coat rack. Anything beyond that is just a bonus. Then again, you do love a bonus, and nothing gets you thirsty like a little drizzle...

Enter Brigg's Malacca Flask Umbrella, the latest in discreetly alcoholic raingear.

Brigg has been making gentlemen's umbrellas for 170 years, for everyone up to the Prince of Wales, and their umbrellas have a decidedly aristocratic flair, so you won't have to appear less than regal. (They even specialize in equestrian equipment, in case you need a new polo whip.)

Their latest creation keeps the same aristocratic elegance, but unscrew the handle, pull back the silver collar, and you can slide out a fitted glass flask of your favorite hooch, all without breaking your gentlemanly reserve. As for the proper form for sipping whiskey in the rain...you'll have to consult your butler.

Naturally, Brigg settles for nothing but the best in materials. The wood in the handle is grown in the Straits of Malacca in Malaysia, and the canopy is hand-woven English silk, so you won't have to worry about staying dry while you're getting a little wet.

Then you can get back to the business of being a gentleman.