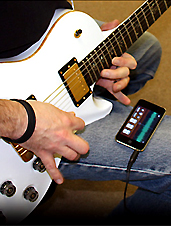 Every once in a while, you wake up with strange thoughts brewing in your head. Wacky dreams. Harebrained schemes.
And the occasional musical masterpiece.
Which brings us to
PRS Guitarbud
, a gizmo that lets you play your guitar through your iPod or iPhone, available now.
Basically, it's the musical equivalent of that tiny memo pad you should carry around for capturing your daily bons mots. First, you'll take your axe's amp cord and plug it into the adapter. Then take the adapter and plug it into your phone. And then: wail away—you can now record every last hook, riff and ear-splitting solo you think of in the middle of the night, and hear it in the morning. (This is actually how Keith Richards wrote "Satisfaction.")
And because this basically turns your phone into a highly portable (if quiet) amp, you can play your guitar just about anywhere. (We're sure your co-workers love "Stairway" as much as you do.)
You can then revisit your newly created tune later and finish recording it, again via the phone. And on the off chance you've lost touch with your Hendrix-like soloing ability, this thing has music lessons included, which can help you re-master the guitar.
It also makes your roadie's job a lot easier.