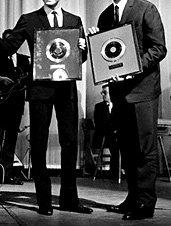 Yes, we know, you totally called it.
You knew Kings of Leon would be huge in 2004.
You were bootlegging Lady Gaga shows on the LES in '07.
And you "just had a feeling" about the Strokes in '01.
And while you wouldn't call yourself an agent, per se, you might be persuaded to take your armchair A&R status to the next level if some coin were involved.
Well, here's a little tip for you: it's called
Musyck.com
, and it's a new music site that lets you invest in and proselytize about your new favorite bands, signing up new members now for its launch in a few weeks.
Despite its name, we can officially say that Musyck.com has nothing to do with Muzak or any other soft jazz versions of pop songs—instead, you'll find a breeding ground for new bands looking for someone to love them. (But not in a groupie sort of way—that's a different website.)
Here's how it works: you go on the site, listen to some songs, dig up a few bands, peck around and generally do your thing. Once you've found the next Rolling Stones, you can invest in one song or the whole album, and from there on out, you get a piece of the action on any downloads. The more downloads that happen as a result of your massive influence, the more you get paid.
But, we know, it's still about the music...