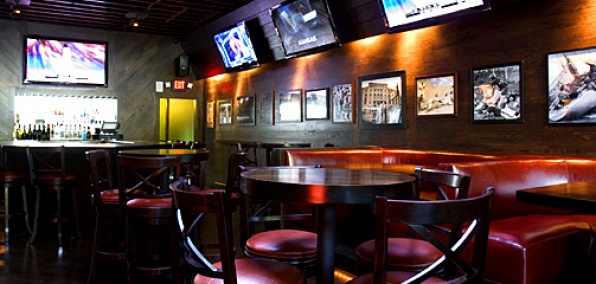 The finish line, the end zone, dangling from the hoop—these are the places where you live.
Also: in front of a cold pint, surrounded by flat-screens, watching other people doing the dangling. Which is where an upscale new restaurant and sports bar called
Goal
comes in—it opens Thursday on Third Street, just in time for that little 65-team basketball tournament getting under way.
Basically, it's the one thing that's been missing from this patch of road. While she's brunching or shoe shopping, you can sidle into a maroon booth to catch the game over a beer and
The
Juicy J
, a half-pound burger stuffed with pepper jack. (They're open noon to midnight daily, so it works for a lunchtime escape from the office too.)
It's a simple rectangle of a space designed by Kris Keith (
BoHo
,
Bar Delux
), but we detect an East Coast vs. West Coast vibe to the opposing rows of maroon booths down either side—note the vintage Dodgers pic to the left, Yankee Stadium to the right—so you'll want to choose your spot carefully. If you're just here for the Kirin Ichiban (a Japanese beer), the tall bar tables down the middle are neutral territory.
Above it all: a row of 13 flat-screens all the way around. So even if you're dying to catch the International Tournament of Underwater Ping-Pong, they can probably spare at least one screen.
Maybe two.