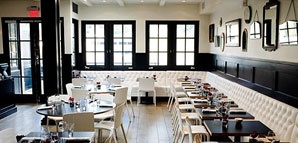 Meet Sam Ross.

The man responsible for the cocktail menu at Comme Ça—the brasserie from Sona king David Myers opening tonight—just might become your new best friend. (With apologies to your current best friend.)

You may have heard of Sam when he opened Ginger, named after his favorite ingredient, in his native Melbourne.  But he became more widely known for his pre-'20s-inspired cocktail programs at NYC's Little Branch and Milk & Honey.

He created just four drinks for Comme Ça. His devotion to classic preparation, using simple yet intriguing combinations, means the egg white in your Pisco Sour will settle in the Chilean grape brandy "like a good Guinness," and you'll sip the Penicillin (Scotch, fresh lemon, honey and ginger) around one big block of ice cracked with a spoon. (He says ice-cube trays, like vodka, arrived on our shores after the '20s, so both are frowned upon at Comme Ça.)

But there is a fifth option—the "Bartender's Choice." Before or after your dinner of Coq au Vin or Paleron of Beef Bourguignon, let Sam or his crew know if you're feeling like something stiff, sour or both, and you'll get a surprise.

Odds are it'll taste better than anything your ex-best friend ever poured you.