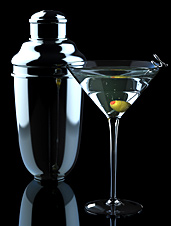 If you've recently been diagnosed with Severe Nightlife Boredom disorder, we've got your prescription right here.
There's only one problem: we can't tell you much about it. As is so often the case with the most exciting things in life, it's not exactly 100% legal.
But allow us to drop a few hints about
Pharmacie,
a secret underground party you'll want to ask around about.
Basically, it's a little like that movie with Brad Pitt and Ed Norton and soap, except instead of underground fighting, you'll participate in underground boozing and mingling. Once you get yourself on the mailing list (and again, getting on that list is up to you...), you'll receive a covert invitation to attend a party about once a month. There's a core group of about 100 merry drinkers involved, many of whose faces will be familiar to dedicated imbibers of Los Feliz, Silver Lake and Echo Park.
Also in that invitation you'll be clued in to that month's featured liquor—and the classic cocktails it will birth. Last time, rum was mixed into
Italian Swizzles
(lime, sugar, Punt e Mes vermouth, bitters) by the reputable barman, who always sports a regal bow tie.
What you won't be told—until the last minute—is where exactly you're going. The location might be in a covert brick room with a fire roaring from bits of tumbled glass, or...it might not. We wish we could tell you more, but we can't.
Doctor-patient privilege.