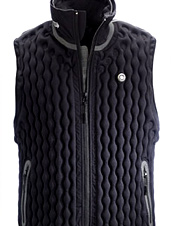 Storm's a comin'. Snow. Cold. The works.
So we sense that some added layers will be required in your outerwear future.
The only trouble is, added layers can be downright cumbersome when taking on a black diamond, or dipping into your eighth pub of the night (ah, Wednesdays). If only there were something with all the warmth and none of the excess weight...
Introducing the
Klymit Kinetic Vest,
the first vest to employ argon gas to keep you warm and comfy, now available for preorder.
Think of it as a vest that's equal parts outerwear, technology and Bill Nye the Science Guy. Created by a Utah-based startup, the vest uses a special palm-size dispenser for shooting argon gas into small chambers throughout it (it's the Reebok Pump of cold-weather gear).
And don't worry about looking like the Michelin Man—as the chambers inflate, the vest conforms to your body, but insulates better than a down jacket three times as thick. You'll also be happy to know it's TSA-approved, so you can wear it on a plane.
There are four different types to choose from (for skiing, hunting, climbing and water sports), which theoretically means there's one for every activity you're into.
We eagerly await the gas-powered beer pong vest.