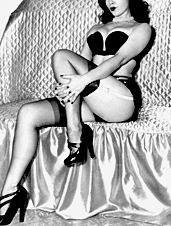 In an age of Tara Reid, Heidi Pratt and the brilliant thespian known as Snooki, it's easy to forget that sexiness was once a bit more subtle, a bit more glamorous, a bit less spray-tanned.
So with Valentine's Day looming, we thought we would present an opportunity to bring sexy back. To really explore how things used to be. One garter belt at a time...
Introducing
Pinup-Era Lingerie at Jaryam
boutique in Georgetown, here to add a bit of vintage allure to whatever you might have planned this coming weekend.
These are the kind of just-revealing-enough getups you might have found on bombshell pinups like Bettie Page, Betty Grable and the other American heroes who inspired our GIs, fought the law and paved the way for the sexual revolution (you may salute now).
The entire collection is from the '40s and '50s in LA, so you know you're getting some vintage Hollywood unmentionables that feel like they were stolen from January Jones's
Mad Men
dressing room—like off-white boy shorts with garters, a red "bullet" bra adorned with hearts (you may want eye protection) and a black strapless number that pushes up and plunges down.
Subtlety is in the eye of the beholder.