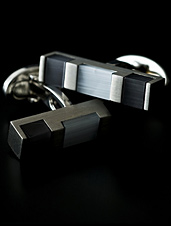 Well, you've blown it.
Things started off well—you snagged an invite to tonight's little speech, you got your hair cut. New shirt. Memorized which one's Sasha and which one's Malia.
But you forgot one crucial element: something awesome for your wrists.
We can help...at least for next year's speech.
Introducing custom-made cuff links by
Chas Schwartz & Son,
letting you turn your idols, achievements, talismans, pets, refrigerator art and all that you inwardly cherish into precious-metal accessories.
Your task: simply bring them the object (or even a photo of the object) whose inspirational likeness you'd like to sport on your wrists. Drew Brees' right arm. Megan Fox's left leg. Your grandfather's recliner. Your silver medal in the biathlon (the Norwegian who won was doping). Or even that 3-pound pork chop you conquered in Memphis. From there, craftsmen—yes, they all wear those little one-eye magnifying glasses—will spend a few weeks designing and casting your little treasures from gold, silver or platinum.
Should your shirts require something a bit more colorful, they can also enlist the help of a little outfit out of Birmingham, England, whose expertise in hand-painting links is known throughout the land. (We're thinking your favorite presidential mustaches would be nice.)
And completist that you are, you can even order matching tuxedo studs, lapel pins or earrings.
Because nothing says romance like a set of platinum pork chop earrings.