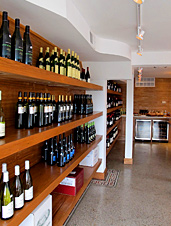 Weekends in Adams Morgan are somewhat...predictable.
A little Peruvian food, some underground blues...followed by a perilous escape through throngs who mistook 18th Street for a Mardi Gras parade.
What you need is a safe haven.
Enter
A.M. Wine Shoppe,
the new Old World deli, wine shop and hangout from the folks behind Cashion's Eat Place, now open to serve as your pre-date secret weapon for take-out gourmet and vino.
Like a little charming shop you'd find on a Roman side street—complete with a 16-person communal tasting table, chunky wood and antique tile floors—this is the kind of quiet place to drop by after work and get lost in a land of artisan meats and rare wines. Meaning you'll want to start out with a lengthy happy hour tasting before wandering to the back deli counter to collect the evening's bounty.
From there, strategically select a few Italian-inspired eats (pork cheek panini, tenderloin bresaola, marinated veggies) and make sure not to leave without a bag of homemade pork rinds dusted with Old Bay (like Sicily via the Eastern Shore).
Your appetite whetted, move on to the wine (mostly Old World bottles in the $10-20 range), and you may notice some hard-to-find vino originally sourced for Cashion's list.
And in coming weeks, they'll be frying up very limited batches of homemade doughnuts and churros on weekend mornings.
Because a doughnut shrouded in secrecy is the doughnut you want.