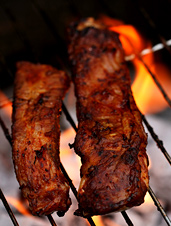 Sometimes a juggernaut so powerful comes along that you can't help but be swept up in its all-consuming maelstrom. Particularly when said juggernaut involves barbecue.
Like next week, for instance, when you sit down to a giant pile of smoked meat. Every night. Because it's your duty.
Introducing DC's inaugural
Meat Week
, an ode to BBQ starting Sunday to give you seven days' worth of smoked and sauced Super Bowl pregame.
This is the excuse you've been looking for to tour the Beltway's best BBQ joints, amidst an ad hoc fraternity of like-minded enthusiasts (because meat loves company). Like all major developments in DC (the Bush administration comes to mind), this unbridled BBQ bacchanalia has its roots in Florida, albeit with the local organizational assistance of a food blogger-cum-Hill staffer.
You'll want to gather your carnivorous buddies and check the schedule for your favorite Carolina-style kitchen or Texas pit shack.
If for some reason your schedule only permits limited participation, allow us to suggest Feb 3, when the guys behind Pork Barrel BBQ Sauce will give a sneak preview of their upcoming Alexandria restaurant, and Feb 6, when the group will gather at a Safeway parking lot in Northeast. There you'll find Mr. P's mobile smoker and school bus retrofitted for BBQ duty.
Smoking in the parking lot: still cool.