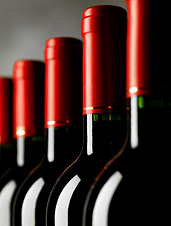 When tasting wine, your refined palate always seeks subtle notes of cheeseburger.
And finally the people who set up wine tastings in this town have taken notice. Which is why it gives us great pride to introduce LearnAboutWine's new napkin-soaked Blind Date Tastings, aka,
The In-N-Out Wine Tastings
.
The concept: a regular wine tasting in a cool downtown loft (it's right next to sushi spot R23), only instead of the typical cheese plate to accompany your vino, you'll be staring down the barrel of a mound of In-N-Out Double-Doubles.
The wine will be served blind, so prepare to have all of your preconceived notions about which Merlot goes best with beef, tomato, cheese and lettuce put to the test. And you'll want to pace yourself—you'll be knocking back 1-ounce pours from 20 different labels, so before it's all said and done you'll be washing those cheeseburgers down with about a bottle's worth of wine (wouldn't be the first time...).
The inaugural event is all Merlots, but the In-N-Out runs continue on
January 15
for Zinfandels,
February 12
with Cabernets and
February 19
with Rhones.
And it's probably smarter than bringing 20 bottles to In-N-Out.