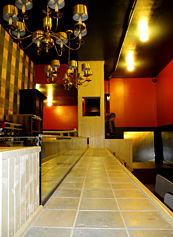 Take your basic aging rocker.
He's either faded into obscurity (where are you, Richard Marx?) or has set out on a never-ending nostalgia tour (we're talking to you, Jimmy Buffett).
In some cases, however, he gives you the unexpected. Like baked goods.
Presenting
Dangerously Delicious Pies
, a new Atlas District shop now taking pickup and delivery orders for holiday pies, and the brainchild of Rodney Henry, who keeps one foot in his bakeshop and the other firmly planted in Baltimore's rockabilly scene.
Think of this as the pie shop only a guy with copious tattoos and a porkpie hat would open. You've got everything you would haphazardly want to throw into dough, from meat to aggressive heaps of fruit. There are standards like
Apple
and
Chocolate Cream,
but you'll want to focus on the
Baltimore Bomb
(Berger Cookies are involved),
Mobtown Brown
(pecan with Swiss chocolate and caramel) and quiches like
Crab and Cheddar
.
When the shop—done up in blood-red walls, barbed-wire wallpaper and a long espresso bar/pie counter—officially opens in coming weeks, the menu will expand to include our favorite, the
Full Custom Custard
(what Henry calls his "white-trash crème brûlée") and savory pies such as
Pork BBQ
and
Steak Chili
.
Henry says he'll not only hand out pies to bands touring nearby, but will also invite musicians to perform in the shop.
Not on the playlist: Warrant's "Cherry Pie."