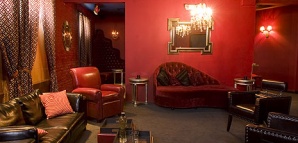 You've never been accused of stealing—except for all those hearts...

Still, you'll likely be interested in The Bank Heist, a large dance club, lounge, bar and restaurant (yes, all of the above) opening tonight in North Hollywood.

Built for the Security Pacific Bank in 1926, the bi-level space has been split into two distinct areas—The Bank, an all-day bistro, and The Heist, a bar and lounge that beckons post-sundown. The Heist half, debuting tonight with a couple of local indie bands onstage, will also showcase comedy, DJs and live burlesque, depending on the night. (Depending on the quality, we're excited for all three.) The Bank half, which should debut tomorrow, offers you gourmet comfort food from Jorge Gruener (Four Seasons Hotel).

The entire building can be configured to suit your needs, whether you want to rent: (a) a table for bottle service, (b) the VIP area (pictured, with its own bar), (c) the Moroccan green room (connecting the VIP area to the stage), or (d) if you're feeling ambitious, the whole place. No matter where you end up, one of the specialty drinks—which arrive in giant carafes—might make you forget even the most nefarious of plans for the evening.

Not that your plans are ever nefarious.