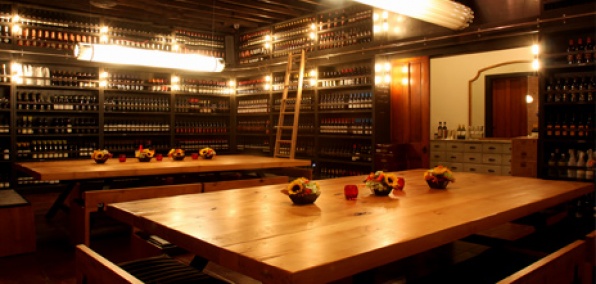 Officially, holiday-party season is imminent. Unofficially, you don't exactly need a reason to get festive.

Which is why you might be interested in the secret new party spot behind one of Beverly Boulevard's most bustling restaurants—welcome to The Wine Library at Terroni.

How to find it: head past the tables topped with uncut pizzas (you have to do it yourself here) and veer down the hall. Past the bathrooms and almost to the kitchen, you'll see a sturdy set of blue shelves bursting with glasses and kitchen supplies. Push it to the right. Hard. It's on wheels. (Or you could also use the separate side entrance off Curson. If you want to be boring.)

Inside this brick library, you'll find everything you need for your private wine-soaked pizza party—bottles instead of books, an old dresser that doubles as a doorway-filling bar and a foosball table if you want it (they'll get it from the restaurant). You could also arrange a pig-butchering lesson, or call upon your vintner of choice to dim the lights and pour well into the night.

You'll be in good company—this is the spot for Providence chef Michael Cimarusti's 40th birthday party, and where the cineastes behind Saw VI landed after their premiere.

Cutting the pizza wasn't a problem.