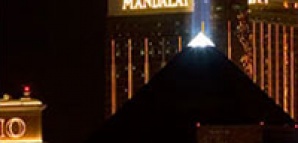 It's not every day you stop to honor your hard days at work. Like any three-day weekend, Labor Day calls for something...memorable.

That may involve Vegas. And if it does, may we suggest an alternative to your typical glammed-out mega-club: Noir Bar, a slick speakeasy opening tonight at the Luxor.

To enter you'll have to slip in through the canopied Mandalay Place entrance, where you'll come across Jackson James and Jason Cooper. Some would claim that these are the toughest bouncers in town, but not for someone as charming as you (someone as charming as you who made reservations, that is). Once you're inside, expect to be escorted down a long, dim corridor toward a sensuously curved mother-of-pearl until you reach the payoff: a breathtaking dome dominated by an antique bar and a $250,000 Swarovski crystal chandelier and, beyond that, a larger main room with soaring crimson velvet curtains and whitewashed brick. It's a scene that is more than enough to make your journey worthwhile.

The bartenders are trained to create custom cocktails involving top spirits, muddled fruit and fresh herbs, suited to your every desire. (Although they can probably rustle up a vodka tonic too.) If you want a little sweetness, you can have some Cherries Jubilee or Bananas Foster, and if you want some spark, you can have it flambéed tableside. Plus, the staff has a firm no-gossip policy and photography is forbidden, so you don't have to worry about your Saturday night ending up on Defamer.

This way what happens in a dark corner stays in a dark corner.