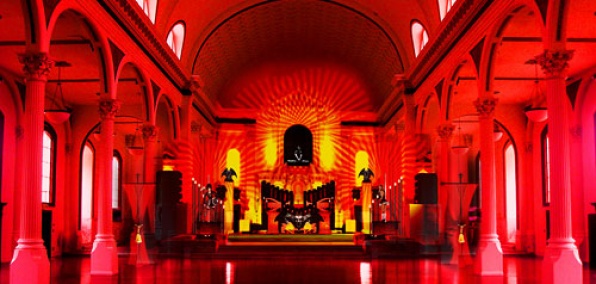 So Halloween is coming. And dark changes are afoot.
Instead of churches, you've lately been uncovering
tequila shrines
. And temples of
collagen terrine
. And now, water shall turn into vodka.
Introducing an otherworldly new pop-up nightclub in a stunning downtown church—
Pandora by Night Vision
takes over St. Vibiana's cathedral this week.
For just a few nights, opening Pandora's box (by which we mean the front door) means you'll be entering a late-1800s holy land…that's been transformed into an empire of fog, candelabras, DJs and VIP sections where the altar and confessionals used to be. Depending on the night you choose to douse yourself in holy water and attend, you might find an interactive vampire wedding (Friday), a jazz band (also Friday) or an open bar (Friday and Saturday).
The inspiration for all this after-dark debauchery—aside from the dark beyond, obviously—is Vegas. (We'll leave it to you to discern the difference.) And after this introductory series of blowouts, you can expect to see this pop-up club pop up elsewhere throughout the country.
Spread the word.