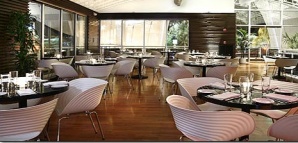 You've mastered the velvet ropes at the Sunset Strip's trendiest nightspots, but sometimes you just want a low-key Miami vibe—and a stiff drink larger than the Gulf of Mexico.

Thankfully, you'll find room for both at The Beach on Sunset, the huge new bi-level restaurant and lounge dug from the sands of the blink-and-you-missed-it Sunset Beach (see what they did there?). Past the billowing sails still flanking the entrance, you'll find a cascading waterfall, outdoor cabanas and a monstrous patio umbrella towering over the downstairs dining room's white leather booths. Unlike some nearby bouncers, this place doesn't take itself too seriously. Oversized specialty drinks include the rum-based Shark Attack and the Wipe Out, a margarita on steroids—during happy hour, you'll pay two-for-one prices on well drinks, and the Bloody Mary is bottomless during Sunday brunch.

To soak up those vats of liquor with an actual meal, try the Fire Roasted Lobster or Grilled Lamb Chops from a chef who made time at Wolfgang Puck's Vert. Or head upstairs for even more seating options—the suede sofas are the best place to catch the game on the flat screens between bites of comfort food like Mac and Cheese or Rock Shrimp Quesadillas. On the way out, if you've had enough to drink, you might even splurge on the "I was a victim of a Shark Attack" T-shirt for sale at the hostess stand.

That's one more thing you won't find at SkyBar.