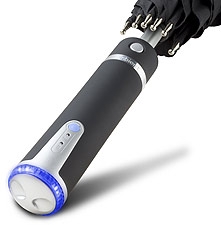 Just like her birthday, rain can be disastrous if you don't know it's coming.
It's by far the biggest danger to your newly pressed suit, to say nothing of the discomfort of spending your morning hours dripping. And a glance out the window isn't enough warning—especially when your sixth sense is thrown off by the lingering effects of last night's social calls.
It's time a gadget did the meteorological thinking for you. Introducing: the rain-sensing
Ambient Umbrella
.
The umbrella connects wirelessly to AccuWeather.com through a data radio in the handle, and if it sees storm clouds on the horizon (literally, not metaphorically), the blue LED ring on the handle will start blinking, at which point you'll know to toss it into your bag before you hit the street. As the chance of rain goes up, the rate of handle blinking accelerates—from a flash every few seconds, to a hundred times a minute when the chance is 100%. (Though by then, the raindrops may also be a clue.) It also warns of snow, drizzle and the rarely spotted "srizzle."
There's no setup, no sensors and no wasting your time watching the Weather Channel. (If you miss the soft jazz, you can buy the CD.) Just watch the handle and stay dry.
Think of it as the psychic friend you don't have to pay $2.00 a minute for.