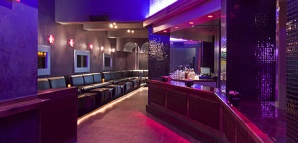 It's the old nightlife conundrum. You don't feel like dealing with some Drakkar-scented club where rehabbed starlets' bodyguards occupy all the good seats, but you're wearing too nice of a shirt to waste on some McPub.

Hollywood's newest happy medium: Vice, soft opening tonight.

Since taking over the space of the footwear-themed Star Shoes last month (we knew they should've gone with a sock motif), Vice has transformed the narrow room on Hollywood into a dark lair for lounging, with black leather booths, a stainless-steel-and-snakeskin bar, zebra wood floors and candle-dotted walls. Owner Steve Fowler, a former promoter at Cabana Club and Les Deux, promises to keep the velvet-rope touches to a minimum: no flashlight-giddy bouncers, no tooth-sucking attitude and the most reasonably priced bottle service you'll find outside of a liquor store. Yes, there will be a guest list, but if you're not on it, you look decent (which we know you will) and the place isn't packed to the gills, you're in.

For maximum good times, we recommend you and your friends book the VIP balcony overlooking the dance floor. It comes with an open-air skylight to allow for that pesky vice you still haven't kicked.

We're talking about smoking. Other vices are optional.