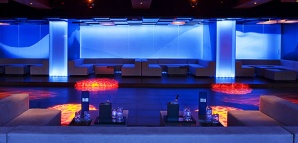 We love the latest downtown nightlife boom, but it's still pretty hard to find a decent view in this town. Jonesing for some skyline? Maybe some sushi? Welcome to the Elevate Lounge, opening alongside Takami Sushi & Robata Restaurant.

The two spots are 21 floors up, and their panorama-heavy wraparound balconies are big enough for a crowd, so you won't have to worry about getting a peek at the city lights. Now if you could just get rid of that smog...

Better yet, retreat into Elevate's open-air lounge, opening Friday, where you can check out the view in more comfortable surroundings. The oversized ottomans include built-in trays for stabilizing cocktails during heavy lounging. The place even stays open for an hour after the 2 a.m. booze cutoff, giving you time to work off that Stoli and plan your next move.

Opening soon after Elevate, Takami promises to be worth the wait, and not just because of the view. Diners can sit at candlelit booths inside or out, or pull up a stool at the Italian leather and sandstone sushi bar. The Japanese-influenced menu includes inspired twists like a Miso Caesar Salad and Baby Lamp Chops with soy truffle sauce, in case you want a little mid-Pacific flavor. Our insider tip is the Rose Tea Martini—the ingredients of its house-made rose liqueur are so secret the bottle gets locked up each night. (As long as there's no Drambuie in it, we're fine.)

We won't be looking too hard at the drink list anyway. We just spotted our cousin's house in Phoenix.