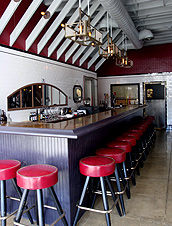 Five hours and counting—been a long week.
Times like these, you crave an intimate den where you can slink in, sit down and drown yourself in Japanese beer. Welcome to
Salaryman
, now open on Hollywood Boulevard.
It's a sliver of a spot, fits maybe 20 people total—so this isn't the place for raging bouts of table-dancing debauchery. The name is Eastern slang for a working stiff, so think of it more like an illicit drown-your-sorrows watering hole, where you can pull up a stool starting at 11am for an oversized bottle of Echigo Rice Lager, a Coedo Sweet Potato Beer or a Hitachino.
If you prefer your Japanese-beer bars to be well-versed in what's coming out of Maine these days, they've also got Allagash White on tap. And if you're hungry, this bar's a sidecar to the newest Umami Burger restaurant—before you blinked, you knew this bigger and better-looking sequel to the La Brea sensation as Cobras & Matadors, and the bar was Sgt. Recruiter.
You've always thought sequels got a bad rap.