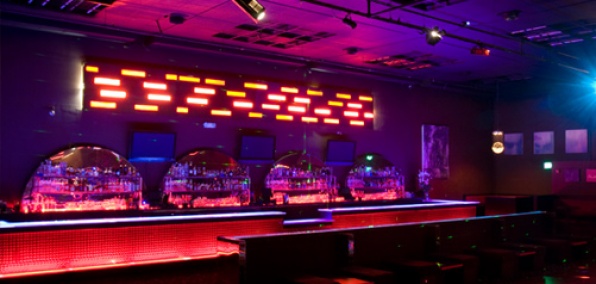 Last week, things got very, very Hollywood for you—both
geographically
and
spiritually
.
You couldn't be blamed if you need a retreat from the hustle…to, say, a cavernous dance floor where nobody knows your name. You'll find just that at
8Hill
, now open Downtown.
This is the kind of place where the music's loud, the drinks no-frill, the walls adorned with snapshots of anonymous flesh, and the bar…giant. (It's a 65-footer.)
It's also dark. Plenty dark. Make your way in, wave a round your way—let's just say nobody here will judge you if Red Bull factors in—and, when you're ready, start utilizing 40,000 watts of eardrum-erasing bass in your quest to forget anything involving the word "spreadsheet" or "conference room B." Depending on the night, you might be enveloped in jazz, funk, reggae, house or a tantalizing hybrid.
And if you need to get away from your getaway, find the covert stairwell in the back corner and make your way up to the VIP room—the most important design element being another bar of its very own.
They thought of everything.