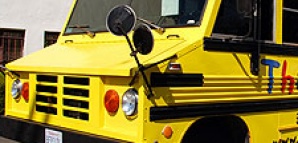 If you ever wondered about the chance to go drinking on the short bus (who hasn't), that moment has finally arrived.

Restaurant and nightclub operator Dolce Group recently bought a used mini-bus, tricked it out, and today launched a new party bus service to end all party bus services: The Short Bus. The yellow bugger is rentable by the hour, seats 16 and comes with everything you need for a rolling good time: driver, bar, fridge, 40-inch flat panel television, CD & DVD player, satellite radio, surround sound system, and, of course, ever essential strobe lights (just in case you weren't getting enough attention rolling down Wilshire).

To sweeten the ride, the Dolce Group will hook you up with VIP reservations at any of their restaurants, like Ketchup and Geisha House, and will also guarantee your group access to Les Deux (if non-subtle entrances are more your thing).

Unlike real school buses, this one encourages you to BYOB, but you can also take advantage of The Short Bus's concierge service which for an additional fee will grant practically any request. Which means if your bus party requires sloe gin fizzes with sweet potato tater tots, served by, say, waitresses in school-girl uniforms, this is the bus to go to.

All this and no homework.