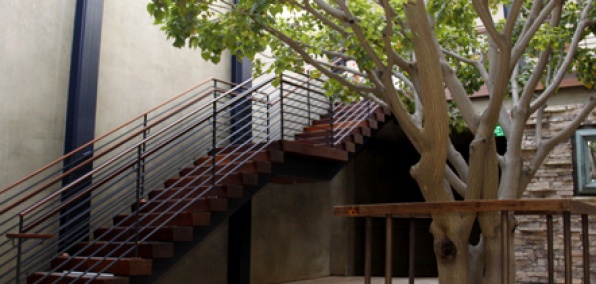 You don't need a reason to get excited about the holiday weekend. You need a reason to get excited about coming back.

Like…drinks under the shade of a giant coral tree in a hidden charmer of a back-alley alfresco bar.

Welcome to Rockwell, whose long-awaited debut is finally at hand.

You won't see it from the street—but next time you're at Vermont Restaurant for dinner, you can keep the party moving by finding your way to the sprawling indoor-outdoor (but mostly outdoor) enclave behind. Hint: there's a separate entrance via the alley out back.

With 6000 square feet of multi-level nooks and crannies, you've got plenty of discreet granite tables and distressed leather chairs to claim for a few rounds of Sazerac Vermonts (bitters, absinthe and Rittenhouse rye) or Anti-Ritas (silver tequila, Veev, acai-blueberry juice, lime and agave syrup). And/or some 22-ounce tangerine wheat beers.

If you skipped dinner altogether, you can also summon a Shortrib and Fried Shallot Flatbread Pizza or a plate of Rockwell Tacos with taro-root shells, spicy tuna, jicama and avocado.

Officially it opens on the 11th, but if you, esteemed readers, feel the need to drop in a night early, well, we'll see you on the 10th.

Don't embarrass us.