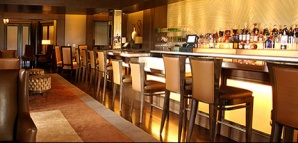 Drinks at the Beverly Hills Hotel used to mean hanging out in the Polo Lounge alongside showbiz meetings and captains of industry entertaining their "nieces." But the new Bar Nineteen12, soft opening quietly tonight, could bring the scene back to the Pink Palace.

Staking another claim in hotel bar territory, Nineteen12 seems ripe for a relaxed good time—after-work or group drinks will flow nicely in either the sleek interior bar or the spacious terrace with views of the city and surrounding greenery.

It's a great backdrop for their creative cocktail menu, which sets out to challenge your notion that drinking couldn't possibly get more fun. Alcohol is served up here in various summer-friendly forms: sorbets, popsicles and gummy candy-like "jelly shots" (apparently it's time to graduate from Jell-O shots). Try the Martini Popsicles, Mojito Sorbet or B-52 Jelly Shots. Or soak up some Cereal Milk martini, made to look like the milk at the bottom of your Fruit Loops (but which somehow tastes so much…better).

The bar food menu is uncomplicated and sharing-friendly (hanger-steak quesadillas, smoked salmon pizza). And bottle service brings a bartender right to your table to mix your drinks; it runs from $475 up to a heroic $23,000 for a 50-year-old Macallan. Or for a mere $1,912, you can combine a shot of the ancient Scotch with an Opus X cigar (an ode to good times, before smoking laws kick in this October).

Though you might want to save that old stuff for the Polo Lounge.