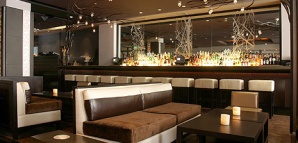 LA is vast. You can't enjoy the whole city in one night (no matter how much
espresso you mix into your vodka
).
So it's nice when a nightspot recognizes this and provides options to make you feel like you've hit up more places than you actually have. Hence,
One Sunset
, officially opening tomorrow night.
Occupying the old Barfly space, One Sunset is, as its name suggests, designed to be your one and only stop of the night. (It's a restaurant, it's a bar, it's a four-room lounge with dinner service till 1 a.m.) You'll start in the Champagne Lounge, a silk-lined Moroccan oasis with a ten-person communal table that should make meeting new acquaintances no problem. From there, you can push on to either the Centre Bar Lounge with cocktail-style seating (again, making it easier to socialize), the banquette-festooned Dining Lounge or the Candle Lounge, which features candles, of course, but also reflective mirrors (so you can see how you're faring from any angle).
In all the rooms, you can feast on shareable plates such as the
Celestial Platter
(jumbo shrimp, oysters, Dungeness crab, lobster and prawns) and the
Prime Beef Flight
(pepper-crusted ribeye mignon, short rib and aged filet Oscar). And as your night grows increasingly festive, One Sunset's ambiance seamlessly adjusts: Lights dim, DJ spins pick up, and dining tables drop to lounge level.
All of which means you can relax into the evening instead of fighting your way through it.