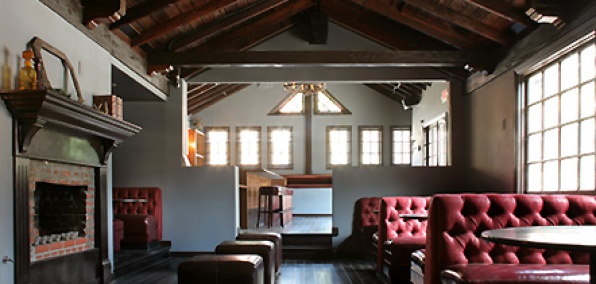 At the end of a long day, sometimes you don't want fuss. You don't want finery.

You want your chair. A cold one. And maybe even a TV dinner. But, you know, a classy TV dinner.

And now you can find all that at The Den of Hollywood, a new bar and restaurant opening later this week on the Sunset Strip.

The former home of an unfortunate naughty-sushi den (the rolls had awkwardly sexual names), this revamped stone-covered getaway—peaked ceilings, a fireplace, totally casual—now feels like your den, if you lived on the Sunset Strip…and if the Sunset Strip were in Aspen. You almost want to take off your shoes. Almost.

Grab a booth by the fireplace and get started with some Cactus Gimlets and Chipotle-Peach Margaritas. And you'll probably be hungry for some shareable comfort food like Parmesan Popcorn, the Den N' Out Burger (you can probably guess the inspiration) and, yes, the TV Dinner—it's Salisbury steak, buttermilk potatoes, peas and carrots, and a cookie. The chef has marked time at JiRaffe and the Viceroy, so you can consider it a pretty significant step up from the frozen-food aisle.

No offense, Hungry-Man.