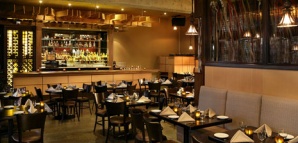 In Hollywood, what goes around tends to come around.

Which is what the former owners of White Lotus are counting on. In a supernatural feat for LA, they managed to keep the space hot for years, and now hope to restore its former glory—and then some—with the restaurant and nightclub's new red and gold incarnation, Ritual, opening to the public on Thursday.

Gone are the claustrophobic dividing walls, the sushi bar and the killer wait for a drink. There are now four bars, which should be enough to accommodate anyone's habit. The airy, opened-up space has a something-for-everyone vibe, with a large dance area and stage, lots of plush booths, a more intimate dining area and a walled-in, loungey patio now with 100% more waterfall. Eighteen flat screens can be independently programmed, giving resident DJ Nahchey (Les Deux) 80 million ways (give or take) to visually enhance the latest Rihanna track. (Or, say, plug the latest movie from Luke Wilson, whose premiere party will be held here tonight.)

Chef Andrew Pastore is back with a Pacific Rim menu including swordfish, short ribs and the Mystical Chef Andy Cut Roll, a formerly off-the-menu offering that will soon be the decadent staple—it's overstuffed with crab, fried onion, albacore and (what else) gold flakes and caviar. All this and shareable apps like Steamed Lobster Dumplings and Teriyaki Filet Skewers mean that this spot will be the latest surefire pick for dinner, drinks and dancing with no need for relocation.

Now that's one LA ritual you could get used to.