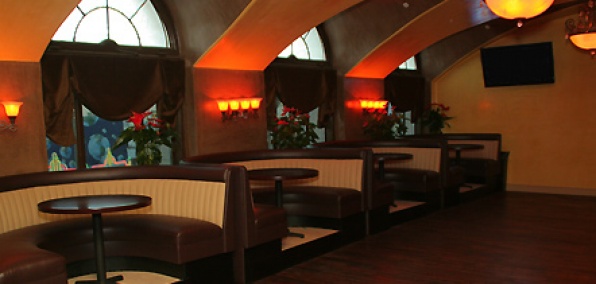 This is a big nightlife story. Literally.

Huge, actually. The patio alone is 4000 square feet.

Welcome to Marbella, an enormous new Spanish nightclub and restaurant in the heart of Hollywood.

You probably remember the white honeycomb walls of Montmartre Lounge, with a Hollywood Boulevard address but a back-alley entrance off Highland. But now there's a new entrance—a covert valet off McCadden—and a new den of Spanish debauchery within.

Up the stone steps is an outdoor enclave, even bigger than before, dotted with trees, small tables and cabanas whose curtains blow gently in the evening breeze…under a towering apartment building currently being constructed. (Ah, Hollywood.) You'll probably want to start here for some sunset tapas—shellfish, cheese, sangria—before you head inside.

Which is where you'll find a heady swirl of brick ceilings, amber sconces, stocked bars and an LED-lit dance floor with plenty of VIP booths beyond. (Marbella, as if you didn't know, is a magical part of Spain where the rich put their riches toward the finer things in life. Booze. Wine. Girls who like booze and wine.)

It's private parties only for now, so keep a close eye on your usual stack of invites—or wrangle a blowout for 800 of your closest friends. Otherwise, expect the full-on public debut after Labor Day.

Go ahead, wear white.