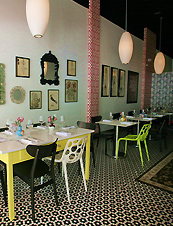 Sometimes you make mistakes. You screw up. You anger people you care about. Like your girlfriend.
But the good news is you can repair the damage. It can be as simple as biting the bullet and sitting through an episode of
Grey's Anatomy
. Or booking a couple's massage. Or taking her to a place that reminds her of her first dollhouse.
Introducing
Charlotte Bistro
, maybe the girliest new restaurant we've seen all year, and your chance to get back on her good side, now open in the Gables.
Think of Charlotte Bistro as the restaurant version of the
Sex and the City
movie. Everywhere you look, there are items she will swoon over, only instead of fashion shows, Latin men humping blondes and wedding-dress montages, she'll be treated to small vases of flowers, cute little tables salvaged from flea markets and fun, vintage wallpaper.
The chef/owner worked at Michelin-starred restaurants in Lyon (including a stint at the legendary Paul Bocuse), so she's a wiz at doing French fusion dishes like grilled langoustines (Norway lobster) wrapped in bacon.
It's perfect for that leisurely Saturday lunch where you'll split a bottle of crisp Viognier and listen to her tell you all about her week. For dessert, get the Venezuelan chocolate soup to go—it'll go well with that
Entourage
marathon you've been planning.
Hey, love is a two-way street.