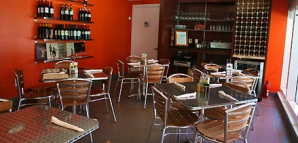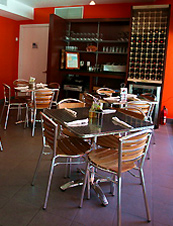 Let's talk small for a second. 
We know it's not your favorite word, but sometimes it's exactly what's required. Small talk. A small movie. A small addiction to bottled beer at dusk.
Or maybe even a small, "adorable," off-the-beaten-path Spanish restaurant run by a chef with a few big ideas.
Say hello to
Decadencia Bistro and Cafe
, a pint-size tapas bar in the Gables, open now.
With just a handful of seats and one shiny black counter, this Barcelona-style spot is where you'll want to turn for an informal lunch or a late-night date, where plates of raspberry-chipotle short ribs and tostones with seasoned strips of pork and spicy papaya sauce go down easily with one of the many bottles of organic Spanish wine.
If you're feeling adventurous (or hungover), order the
Pomo Especial
, a mouthwatering mound of onions, fried eggs, chorizo and bread chunks, all contained in a glass jar (thus allowing you to experience your hangover in a vacuum).
Maybe the best part: most of the mini-plates are astoundingly wallet-friendly, as in a couple of bucks apiece.
Small prices aren't bad, either.