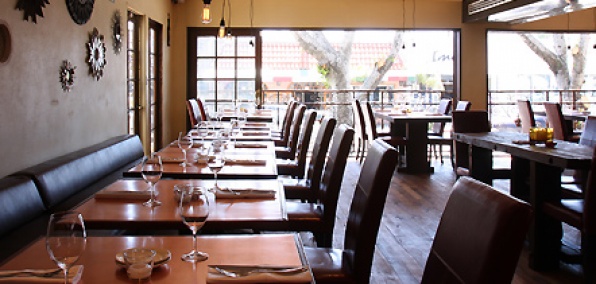 So things didn't work out. Sucks. But it happens.
Get a little wine in you, and you're always willing to give somebody a second chance.
And so we're here to introduce you,
again
, to a wine bar called
Vinoteque
—it's reborn Thursday on Melrose.
The main room is intimate and breezy—the windows slide all the way open, but it's an elevated space, so you're above the goth tweens shopping for new lip rings outside. There's also a more Euro courtyard out back, with an herb garden, fig tree and some pinot grapevines curling up through the lattice.
And don't be surprised if a student from the American Academy of Music steps out onto the balcony for an impromptu performance as you power through European-sized plates of
Halibut With Horseradish Ice Cream
or
Lamb Meatballs Stuffed With Goat Cheese
.
And, oh right—the wine. It's an eclectic bunch of 300 bottles from all over, but order two glasses and they'll open any one of them. There's a flat-screen inside to keep you posted on which corks are popping—and also, the game.
So either way, you score.