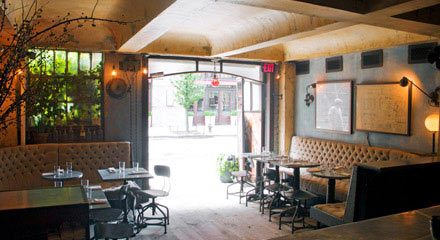 Till now, late night in lower Tribeca meant two things: barren streets and even more barren bars. Lucky for you and your midnight single malt habit, help is here in the form of proletariat pub Smith and Mills, opening tonight.

The passion project of Employees Only's Matt Abramcyk and Akiva Elstein, Smith and Mills is a tiny (think: walk-in closet), detail-heavy watering hole designed by John McCormick (Moto) to feel like the sort of place where a 1920s Eastern European factory worker could blow off some steam after a hard day hammering steel.

Inside the non-marked spot, you'll find a diminutive den of working-class touches: male staffers in basic blue workman's jackets, ladies in factory dresses (so unsexy they're sexy) and shelves lined with antique dishes, cans and mason jars. Meanwhile, low-lit Edison bulbs create a moody, amber vibe you can soak up from one of the faded lime banquettes as you sip vintage cocktails (Old Fashioneds, Sazeracs, Negronis). In the bathroom—a onetime elevator shaft—you'll use a train car sink that empties manually (it'll be just like that summer you spent in Dresden).

Juxtaposing the place's blue-collar Euro motif, you'll probably be pressed up to your neighbor to the sound of Billie Holiday and Django Reinhardt, and dine till 3 a.m. on charcuterie, oysters on the half shell and American caviar.

Apparently, not everything about the old days was rough.