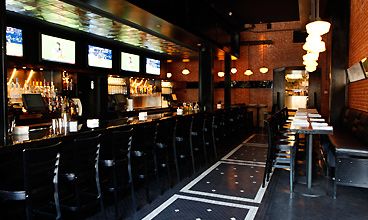 So you're in Hollywood. You need a respectable dinner. Or a round of pre-club shots. Or some dessert. Or a quick lunch. Or a beer cocktail.
Okay, so sometimes you're a little all over the place. So you could use one single open-air kind of spot that can manage all of the above—welcome to
Essex Public House
, soft-opening Thursday.
In the former home of Parc, you'll now find an industrial pub that brings a little of the gritty Lower East Side to Hollywood Boulevard via two distinct but flowing spaces. Old brick, ramshackle tile and illuminated steel surround one room's dominant oak-topped bar, and thanks to the doors that open all the way across, the dining area at the entrance is a room that's actually a patio. (Or maybe a patio that's actually a room.)
It's all meant to convey a casually neighborhood-y, anything-goes vibe, fueled by upscale versions of old classics. You might go for some
Figs in a Blanket
to start, then maybe the
Chicken and Biscuits
and
Banana-Bacon Fritters
—all with help from a boutique-heavy list of nearly 60 beers, like an Arrogant Bastard or a
Hollywood Blonde
.
And we know how you like those.