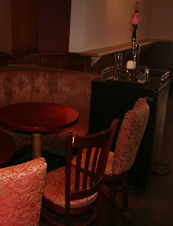 This story is a warning.  
You are about to enter a world of crazy—an all-out, raucous, beautiful disaster of a bar that will eat you alive if you let it.  
Let's get right to it: meet
Superdive
, now taking keg service (yes, seriously) reservations for their grand East Village opening next week. Enter at your own risk…  
Now, the first rule of Superdive is that there are no rules. You can mix your own cocktail behind the bar if you like. There's no door policy—anyone can come in. You can order a round of beers or a keg of beer, and a cocktail waitress will deliver the keg to your table in a rolling kegerator. You can even sit down and play their Steinway piano underneath a large applause sign.  
It's total lawlessness in bar form. You'll know you're in the right place when you walk into quite possibly one of the least adorned bars you'll ever see—the walls are maroon, the banquettes have floral patterns and there's even a row of protected seats for ladies who don't want to deal with gentlemanly advances, delicately dubbed the "f*ck off seats."  
Just drop in with a few (or more) friends, carve out one of the booths along the wall, order up a keg (more exotic orders, like Hitachino or Chimay, take 48 hours, but they have regular kegs in stock), take over the iPod and walk out eight hours later not recalling much of what just happened.  
In other words, just like a good dive bar experience, only supersized.