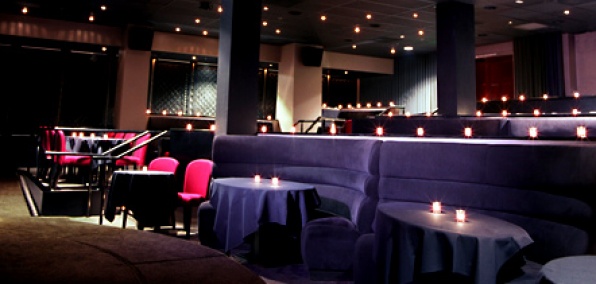 Close your eyes. (But only for a moment, so you can keep reading.)

Now, think back to another time. A time of sax-fueled jazz and languorous burlesque in a glamorous old hotel. A time when men were pinstriped gentlemen.

A time like...this Saturday, when The Happy Shop premieres deep inside the Roosevelt Hotel.

The new show goes down in the Cinegrill, the old-school, hidden spot deep within the hotel that once was patronized by Hemingway, Fitzgerald and Dali. After you arrive looking sharp (ties are required; zoot suits and doll-faced dates are optional), the drinks will be flowing and the sax starts wailing at 10pm. The band's members have performed with the greats (and Kelly Clarkson), and you've seen at least one of the girls doing her thing on Mad Men.

After the vaudevillian swirl of dancing, singing and sax, the night will descend into a sort of unscripted boozy haze, when the jazz band picks up a midnight set and the girls come out to talk about Hemingway's devastating use of allegory in Hills Like White Elephants.

Or maybe just their headshots.
Note:
First show June 20 (next shows July 25 and Aug 22), doors at 9:30pm, $20 (cash only), reservations <a href= "mailto:TheHappyShop@live.com">here</a> or at 310-261-9420