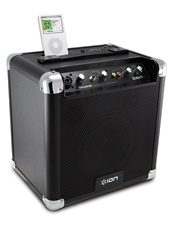 We know—just what the world needs, right? Another effing iPod dock.
Well…exactly.
Meet the
Ion Tailgater
, the first (and probably only) iPod dock that doubles as a karaoke system…and a kick-ass speaker system…and—in case you couldn't guess—guitar amp.
Allow us to set the scene: you pull up to a shindig with this sweet piece in your trunk. Pull it out, plug in your iPod and cue up a guaranteed rump-shaker. (We're thinking "Regulate," but feel free to improvise.) If that guy with the guitar is there—you know,
That Guy
—he can go ahead and plug in and jam along. And since the audio-in port also works with a microphone, you're also ready for instant karaoke. (It's a bit like
Rock Band
, but real.)
Keep in mind the cordless charge is good for up to eight hours of playing time, so you can bring your tunes virtually anywhere—good for your next pool party, perhaps, or rocking "Welcome to the Jungle" in the actual jungle. Or, as the product's name suggests, the nearest parking lot on game day.
Fender, meet Fender.