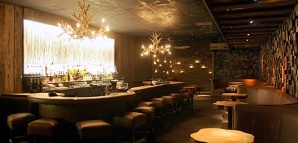 As much as you love your city, nothing quite beats a quiet drink in the woods at night.

Which is why we were pleased to hear about The Woods, a little forestial oasis in (where else) a strip mall on La Brea.

Look for an unmarked stone facade hidden on the mall's first floor—for now, there's no sign. Open a large, heavy door to find yourself in the former Lava Lounge space, where you'll uncover a sleek, low-key lounge that feels like the peaceful outdoors, from the owners behind haunts like The Well, NoBar, Bar 21 and the late, great Daddy's. Walls are stacked with hand-cut cedar blocks, tables are carved from tree trunks, and elk-antler chandeliers twist from the ceiling. The one-room space's circular chocolate banquettes are cozy enough for groups who actually want to talk to each other, but sexy enough for mellow pre-dinner-date drinks (she'll melt as you point out the Little Dipper in the fiber-optic "stars" on the ceiling). 

Bartenders are flanked by the usual bottles but also serve two special concoctions: Mint juleps are a house specialty, and the dangerous Hollow Point is their signature "shot"—the ingredients are a secret, but owner Craig Trager tells us it's named after the bullet so powerful a second isn't needed (you be the judge of that).

The great outdoors just got greater.