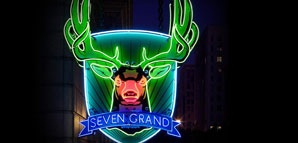 You've always suspected that whiskey deserved a better platform.
Which is why you'll be pleased to hear about
Seven Grand
, a new downtown spot that does the dark stuff justice.
Opened last weekend, Seven Grand is your whiskey/taxidermy oasis from Cedd Moses (
Golden Gopher
,
Broadway Bar
). Located on the second level of a converted 1920s jewelry store, Seven Grand greets you with a rustic stag's head chandelier (it's the first of many). Make your way past the ever-changing Dick Cheney-esque firearm diorama, and take in what appears to be an old school hunting lodge. Raised leather aviator drinking chairs will house your drinks well, and an enclosed outdoor smoking lounge is perfect for cigar and whiskey pairings. A private "Jackelope" room (you've always wanted one of those) and a vintage pool table mean you can linger around late enough to let the spirits soak in.
Speaking of spirits, you can choose from more than 125 whiskeys or try a flight. If you're feeling adventurous (and we trust you are), sample the rare, 30-year-old Macallan scotch (at $120 a glass) or the George T. Stagg (unfiltered, uncut, 140 proof). Plus, the cold draft ice machine freezes cubes at a lower temperature and with a larger surface area, so even drinks on the rocks seem tougher.
Happy hunting.