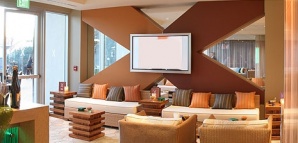 If CAA and Tom Cruise are doing it, it must be cutting-edge.And we're not talking about running Katie Holmes' career. We're talking about opening shop in Century City. The newest kid in town is X bar, a sleek indoor/outdoor lounge and one of the first watering holes in the neighborhood that doesn't have the words "shopping center" in the address.

X bar (a product of the Hyatt's $30 million renovation) feels more Miami than mid-LA with cushioned wicker couches, stark white booths, firepits and bamboo trees—but its feet are planted firmly in Hollywood with its underground tunnel that connects it to CAA headquarters (renegade missions to drop off screenplays are being plotted as we speak). Though its one-letter name is reminiscent of a certain other hotel brand, X bar says it's named after the floor-to-ceiling steel X near the bar that had to remain for structural purposes. Besides the nine plasmas inside, X bar boasts a 15-foot projection screen on the patio, making the place a potentially cool venue for film screenings.

Coming up, look for DJ nights, happy hours and spiked hot chocolate evenings around the fire. X bar's creative cocktails are concocted with freshly squeezed organic juices, while the menu is filled with internationally-inspired small plates like chili-lime crab cakes and brie and walnut quesadillas, meant to be shared—perfect for a post-work posse of CAAers who can each take their ten percent.