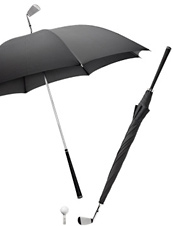 We hate to state the obvious, but it's been raining a lot lately. 
And while that's certainly cut into your beach time, it's hard for us to even talk about what it's done for your golf game. (Two words: septuple bogey.)
Perhaps you need to wrap your hands—and your mind—around the
Off the Course Umbrella
, the rain canopy of your 9-iron's (wet) dreams.
Conceived by a designer who apparently drew inspiration from IKEA, Bed Bath & Beyond and Chi Chi Rodriguez, this foxy device combines your two most passionate loves: golf and dryness.
Stick it in your trunk on days when it looks like the sky is about to unleash one of Miami's patented monsoons, or stash it in the corner of your office and break it out whenever you can't bear to do work without simultaneously practicing your short game.
You can also use it to beat back all those lady admirers who will no doubt be attracted to it.
Some women lose their minds around umbrellas.