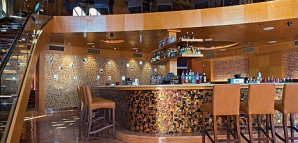 The anticipated
Eleven
restaurant and nightclub "isn't doing a show," says co-owner Sid Krofft, "the place
is
a show." Indeed, there's a lot going on here, from violinists to DJs to "aerialists" dangling from the ceiling every 15 minutes to—perhaps where you'll see the most interesting stuff of all—unisex bathrooms. Eleven will also debut the world's first million dollar fire and water fireplace, created by the folks behind the Bellagio fountains (all our favorite fireplaces come with pedigrees).
Still, the owners insist that the performance art and eye-catching décor is simply backdrop and that the cool-yet-unpretentious vibe and top-notch food are what will really stand out. To prove it, they've hired chef Vincent Manna (L'Orangerie,
Spago
) to create dishes with world influences like
Double Karabuta Pork Chops
and
Guinness Battered Fish and Chips
.
With a post-Grammy party this past Sunday, this dual-level space—which turns into a DJ spinning lounge when the clock strikes 11—could be one of the hottest spots to hit West Hollywood.
You can also expect little surprises throughout your visit, ending with a complimentary bottle of VOSS water in your car. And we thought the valet not denting our fender was present enough.