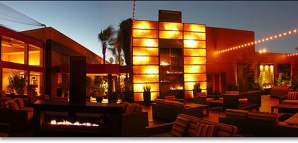 The next time the mercury actually makes it above 60 degrees after sunset (in other words, the climate Los Angeles promised when you signed up to live here), we're recommending you thaw out at one of the coolest outdoor lounges to hit the Westside in years.

And we might as well tell you upfront—it's at a Marriott. And it's in Marina del Rey.

We know, we know, it sounds hard to believe. But once you step into the open-air courtyard that is Glow, you might very well forget where you are. Comfortable couches create perfect group seating areas around cocktail tables and fire pits. There are a Zen-like waterfalls, a private cabana, multi-level fireplaces climbing a towering back-lit wall, and dozens of mood-setting lanterns to make sure the place lives up to its name.

The Marriott won't do an official grand opening until spring, so the crowd will probably be well, not exactly huge yet, but it seems to us like the perfect place to take a romantic date, grab drinks with a group after dinner or work, or bring out-of-towners who would kill to have a bar like this back in Tulsa.

Just tell them they're in Venice—they won't know the difference.