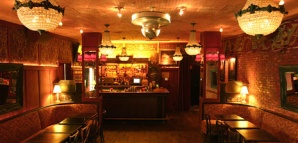 Moscow's got nothing on LA.

At least nothing on Bar Lubitsch, the newest Russian drinking hole from the Bar Marmont crew. Tucked in the heart of West Hollywood's Little Russia, picture a sleek, old school Russian hangout with antique mirrors, cozy booths, a tulip-shaped disco ball, Russian placards and menus and—most importantly—over 200 varieties of vodka.

With a heated front smoking patio and two bars, there is ample space to soak in the Cold War Moscow vibe, be it on a date or hanging out with friends. In a very non-Russian but oddly fitting move, both the front and back bar were pulled from Chicago drinking holes that date to the '20s—the back bar came from a former Capone hangout and features cigar burns from the man himself (their gangsters having nothing on ours).

But back to those vodkas. With a selection like this, you'll be foregoing your Grey Goose martini for the Lubitsch Touch (a house specialty). In fact, they take the "art of the cocktail" quite seriously by using only fresh, 100% organic juices and mixes that are made in-house daily; and serving shots in pre-chilled, vintage shot glasses.

If you feel like sipping the good stuff, go for the Jewel of Russia Ultra vodka. (At $25 a shot it ain't cheap, but neither is perfection.)

Welcome to the neighborhood, comrade.