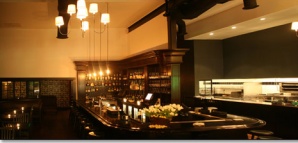 Sometimes you just want to swap a $20 pomegranate cocktail for a pint of Guinness, a slab of uni for some grilled sausage, and a frou-frou place called Le Moonbeam for a more genuine spot named something like…The Village Idiot.

Soft-opened last Wednesday, the Idiot is an Old English-style neighborhood pub, serving quality grub and good pints at modest prices. The beloved bastard babe of three experienced foodies, the spot has 16-foot ceilings, a wraparound mahogany bar, and exposed rafters for a casual, tavern-meets-loft vibe. In front, huge windows atop elevated leather banquettes are perfect for scoping out the neighborhood lasses strolling by as you take in a pint or two with the guys.

For those who want to unwind in peace, a more secluded room is tucked in the back, and in the future a private VIP lounge (okay, it is LA after all) with a separate entrance will host private parties.

As for the food, it's classic "pub grub" like Steak and Potato Pie, Belgian Ale-Steamed Mussels, and Bubble and Squeak (of the non-sexual variety), a time-tested side from across the Atlantic that features potatoes, cabbage, and onions. As for the beers? A rotating bevy of the best brings to mind one word: cheers.

After all, the Idiot's all about leaving with a smile on your face.