Self care is a wide ranging, personal practice that involves everything from sleep and exercise to breathwork and spa treatments.
But, it's like we always say: It's just not effective self care unless you're lying in a dark, womb-like contraption while listening to beats created by an award-winning musician and producer.
So imagine our delight to learn of Sava, a new "multisensory healing experience" — it's a human-size sound pod — that wants to improve your physical, mental and emotional health. It's available to preorder now.
Sava comes from Ray Kelly, a human performance and injury rehab expert, who's spent the past 20+ years managing the health and wellbeing of professional athletes celebrities. Now he's channeling all that knowledge into this: a sound pod that mixes body vibrations with immersive music to transport users to a higher state of consciousness. And hopefully heal what ails them.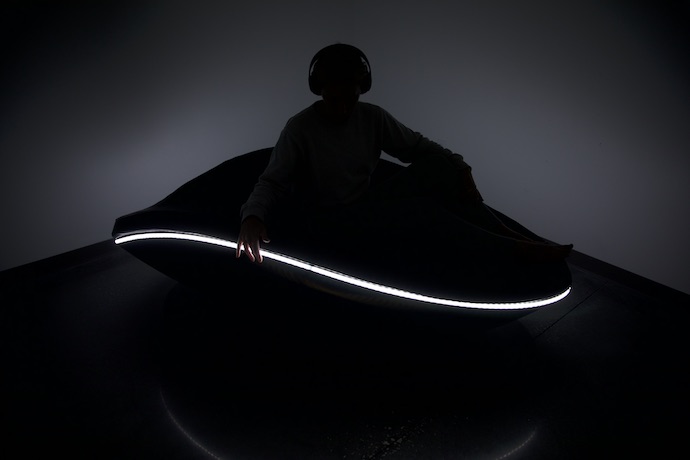 The cocoon shape is built like an ergonomic cradle. Sava was developed so your body feels vibrations and bass via 10 transducers positioned underneath your legs, hips, back and shoulders. Meanwhile, surround-sound speakers pump out binaural beats for an immersive experience. The combination of your body feeling the bass and your ears hearing the music is meant to create an experience that's like next-level meditation paired with a recovery session.
The device is controlled via a mobile app, which allows users to customize their wellness experience based on their current mood and goals. Select a "sound journey" based on how you're feeling — and how you want to feel — then the technology takes over.
The music was created by Nick Littlemore, who you might know from Empire of the Sun or Pnau. He created custom sound journeys that are paired with the sound vibration technology, so you're enveloped in music. And all while lying down and blocking out the outside world.
Which sounds a lot more relaxing than going to see him play a live show.