You don't go somewhere like the remote, northern lands of Norway to sit inside all day.
Then again, it gets damn cold there.
So let's consider a compromise: these new glass lodges above the Arctic Circle, where you can experience panoramic views of the surrounding nature from the comfort of your blanket and hot toddy.
Panoramic Luxury in Tromso is a new itinerary from Off the Map Travel, with trips available December through March. Its launch coincides with the height of the "solar maximum," the time in the sun's 11-year cycle where the sun is most active. This results in the brightest and most frequent displays of the Aurora Borealis. So, keep your head on a swivel.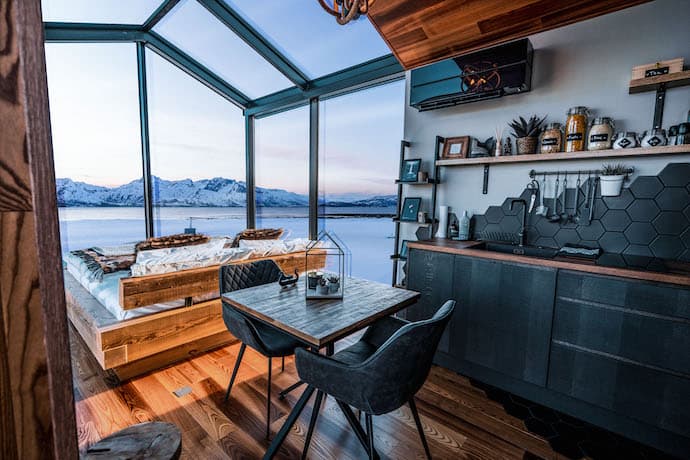 The two glass lodges are situated in a remote area north of Tromso, more than two hundred miles above the Arctic Circle. Each lodge embodies modern Scandinavian design and is made from local, natural materials to blend in with the wilderness outside. They are kitted out with a king-size bed, luxury bathroom, kitchenette and dining area, and the panoramic glass walls and ceilings provide unobstructed views of the Northern Lights and the night sky.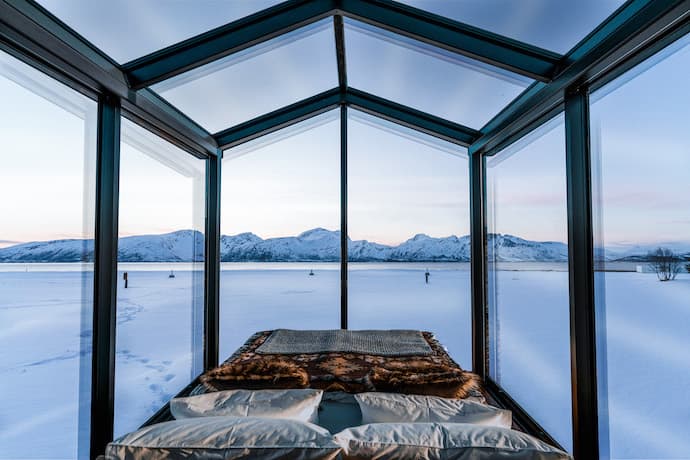 The five-night package includes two nights in a glass lodge, plus three nights in a luxury three-bedroom Tromso apartment, complete with a private chef. Your itinerary also includes a private Northern Lights tour with dinner and a private Tromso island tour, where you know some fjords will make an appearance.

There's also a sledding experience with some local huskies, snowshoeing, and a king crab dinner. So, you'll be busy, but in a very good way.
When it comes time to retire at night, you can sink into your comfortable bed and look up. That's where they keep the Aurora Borealis.
You came this far, so you'd hate to fall asleep and miss it.